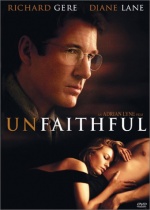 Connie Sumner has a loving husband, a beautiful home, and a wonderful son, but she wants more. When she's approached one day by a handsome stranger while trying to hail a taxi, she becomes obsessed with him and eventually starts an affair. But her selfish actions soon catch up with her...
Tagline
- If you had the opportunity, would you?
Where do you go when you've gone too far?
User Reviews of Unfaithful
Movie Info
Year:

IMDB Rating:

6.5

IMDB Votes:

16870

Countries:

Genres:

Tags:

Adultery, Murder, Remake, Train, Disturbing, Female nudity, Sex, New york city, Infidelity, Neo noir



Domestic:

$52,775,765 (44.3%)

+ Foreign:

$66,362,019 (55.7%)

= Worldwide:

$119,137,784

Opening
Weekend:

$14,065,277 (2,617 theaters, $5,374 average) % of Total Gross: 26.7%

Release:

2,625 theaters