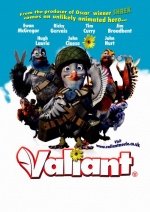 This computer-animated adventure comedy focuses on Valiant (Ewan McGregor, voice), a wood pigeon who has volunteered to do his part for England during the World War II. He is a brave, but fairly undersized bird whose ambitions are enormous and endures rigorous training in preparation for a dangerous mission to deliver vital messages to troops behind enemy lines despite the brutal attacks by the Falcon Brigade of enemy.
Tagline
- Featherweight Heroes.
Some pigeons eat crumbs, others make history.
Movie Info
Year:

IMDB Rating:

5.6

IMDB Votes:

3746

Countries:

Genres:

Tags:

Chase, London england, Character name in title, Friendship, Rescue, Airplane, Espionage, France, Truth serum, Mother son relationship



Domestic:

$19,478,106 (31.5%)

+ Foreign:

$42,268,782 (68.5%)

= Worldwide:

$61,746,888

Opening
Weekend:

$5,914,722 (2,014 theaters, $2,936 average) % of Total Gross: 30.4%

Release:

2,016 theaters