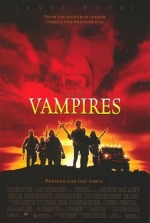 Since his parents had been killed by vampires in front of his eyes, Jack Crow lives for revenge. As a grown-up, he is a fanatic vampire-hunter who works with a good team in a professional manner. One night, after the successful deletion of a nest, the master vampire Valek successfully deletes his team and the party hookers. As Valek knew Jack's name, Jack knows that the vampires are up to something big. Together with his only living colleague Tony Montoya, Katrina, a hooker who will turn into a vampire soon, and newly assigned unexperienced greenhorn priest Father Adam Guiteau he sets out to find the black cross first. If they fail, vampires can walk in the sun from then on.
Tagline
- Prepare for the Dawn.
From the master of terror comes a new breed of evil.
Movie Info
Year:

IMDB Rating:

5.7

IMDB Votes:

12888

Countries:

Genres:

Tags: