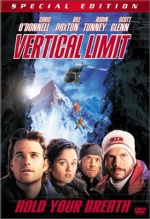 The movie depicts the story of Peter Garrett (Chris O'Donnell), once an alpinist and now a wildlife photographer, who cannot obliterate from his memory a tragic event in his life. The Garrets enjoyed climbing mountains. One day while climbing in Utah, Peter, his father, Royce (Stuart Wilson), and his sister, Annie (Robin Tunney), were eyewitnesses to the death of two amatures falling down the mountain. This caused the Garrets to move quickly and slide off the side of the mountain. As the rope could hardly hold that much weight, the father made Peter cut it to save his and his sister's lives. The father died and Annie condemned her brother for making a fateful decision. Three years later, Annie, determined to continue her father's dream of climbing the world's toughest peaks, makes a risky attempt to ascend the perilous K-2. Having heard about Annie being trapped in an icy grave, Peter assembles a rescue team to save the three survivors of the expedition, his sister, Tom McLaren (Nicholas Lea) and Elliot Vaughn (Bill Paxton).
Tagline
- Hold Your Breath
The Mountain Will Decide.
- This December. Fear will Fall. Courage will Rise.
User Reviews of Vertical Limit
Movie Info
Year:

IMDB Rating:

5.4

IMDB Votes:

14584

Countries:

Genres:

Tags:

Blockbuster, Helicopter, Death, Title spoken by character, Brother sister relationship, Avalanche, Rescue, Religion, Sacrifice, Ice cave



Domestic:

$69,243,859 (32.1%)

+ Foreign:

$146,420,000 (67.9%)

= Worldwide:

$215,663,859

Opening
Weekend:

$15,507,845 (2,307 theaters, $6,722 average) % of Total Gross: 22.4%

Release:

2,602 theaters