Wanted: Dead or Alive
Movie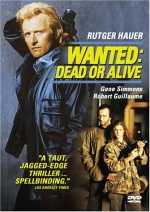 This violent, action-packed political thriller tells the story of Nick Randall (Rutger Hauer), the great-grandson of a famous bounty hunter in the Wild West and former CIA operative who struggled against Middle Eastern terrorists. After Los Angeles is rocked by a series of bloody bombings, Nick is called on to track down an international terrorist, Malak Al Rahim (Gene Simmons), who is now plotting to blow up a chemical plant containing lethal cyanide.
Tagline
- He's America's most lethal weapon, a living grenade waiting to explode. Someone has just pulled the pin.
The terrorists had nothing to fear but him.
- Nick Randall is a loner. A legend. A bounty hunter.
He's the best there is at a job he hates.
User Reviews of Wanted: Dead or Alive