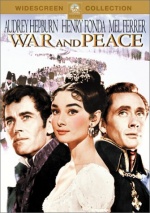 At the beginning of the 19th century, Napoleon's forces controlled much of Europe. In Russia, one of the few countries still unconquered, the army prepares to face Napoleon's troops in Austria. Among the soldiers are Nicholas Rostov (Jeremy Brett) and Prince Andrei Bolkonsky (Mel Ferrer). Pierre Bezukhov (Henry Fonda), a friend of Andrei's and self-styled intellectual who "knows what's right but still does wrong," is not interested in fighting. Pierre's life changes when his father dies, leaving him a vast inheritance. He is attracted to Natasha Rostov (Audrey Hepburn), Nicholas's sister, but gives in to baser desires and marries the shallow, materialistic Princess Helene (Anita Ekberg). The marriage quickly ends when Pierre discovers his wife's true nature. Andrei is captured and later released by the French, and returns home only to watch his wife die in childbirth. During a visit to the country months later, Pierre and Andrei meet again. Andrei sees Natasha and falls in love, but his father will only permit the marriage if they postpone it for one year. While Andrei is away in Poland on a military mission, Natasha is drawn to Anatole Kuragin (Vittorio Gassmann), a scoundrel and libertine. Pierre tells Natasha of Anatole's past before she can elope with him. Napoleon (Herbert Lom) invades Russia. Pierre visits Andrei on the eve of the battle, and observes the battle that follows. Traumatized by the carnage, he vows to kill Napoleon himself.
Tagline
- Conflicts, Loves, Passions, Drama, You Live Through a Supreme Experience as "War and Peace" Comes Alive On The Screen!
The Greatest Novel Ever Written ... Now Magnificently Alive On The Screen!
User Reviews of War and Peace
Movie Info
Year:

IMDB Rating:

6.6

IMDB Votes:

1654

Countries:

Genres:

Tags: