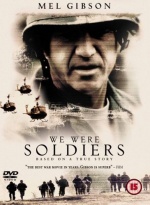 In a place soon to be known as The Valley of Death, in a small clearing called landing zone X-Ray, Lt. Colonel Hal Moore (Mel Gibson) and 400 young fathers, husbands, brothers, and sons, all troopers from an elite American combat division, were surrounded by 4,000 North Vietnamese soldiers. The ensuing battle was one of the most savage in U.S. history. We Were Soldiers Once...And Young is a tribute to the nobility of those men under fire, their common acts of uncommon valor, and their loyalty to and love for one another.
Tagline
- 400 U.S paratroopers. 4000 Vietnamese soldiers. 12 000 miles away from home. 1 man led them into battle.
Fathers, Brothers, Husbands & Sons.
- We were... young, brave, husbands, wives, sons, mothers, daughters, soldiers.
User Reviews of We Were Soldiers
Movie Info
Year:

IMDB Rating:

7

IMDB Votes:

17524

Countries:

Genres:

Tags:

Asia, Helicopter, Vietnam, Death, Journalism, Person on fire, Shot in the leg, Shot to death, Shot in the back, Shot in the forehead



Domestic:

$78,122,718 (68.1%)

+ Foreign:

$36,538,066 (31.9%)

= Worldwide:

$114,660,784

Opening
Weekend:

$20,212,543 (3,143 theaters, $6,430 average) % of Total Gross: 25.9%

Release:

3,143 theaters