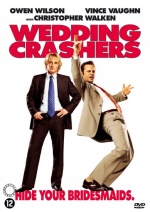 Two mid-aged divorcees Jeremy Klein (Vince Vaughn) and John Beckwith (Owen Wilson) are a pair of longtime friends who work for a law firm, helping contentious couples mediate their divorces, continuously crashing weddings to meet girls. They can get into any wedding and into the heart of every bridesmaid, for one night, of course. Suddenly one of them falls for Claire, also a bridesmaid, who is a daughter of an influential and eccentric politician, and soon guys get into spending a wild weekend at the family's palatial waterside estate and find themselves quickly over their heads.
Tagline
- Hide Your Bridesmaids.
Life's a Party. Crash It.
- On July 15th, they're coming to your wedding...with or without invitations.
They're just a couple of guys who just wanna have fun.
User Reviews of Wedding Crashers
Movie Info
Year:

IMDB Rating:

7.2

IMDB Votes:

43726

Countries:

Genres:

Tags:

Blockbuster, Divorce, Female nudity, Marriage proposal, Beach, Father daughter relationship, Friendship, Painting, Profanity, Sailboat



Domestic:

$209,255,921 (73.4%)

+ Foreign:

$75,920,820 (26.6%)

= Worldwide:

$285,176,741

Opening
Weekend:

$33,900,720 (2,925 theaters, $11,589 average) % of Total Gross: 16.2%

Release:

3,131 theaters